Here's some pictures of guys I think are FUCKING HOT. I've included their birthplace under their pics because quite a few of them are from Europe and I just love a guy with an accent!

Kiefer Sutherland (So Hot!)


London, UK

Antonio Banderas (SEXY)


Malaga, Spain

Julian McMahon (I want you so bad!)


Sydney, Australia

Ewan McGregor (I love you!)


Scotland, UK

Heath Ledger (What a cutie)


Perth, Australia

Paul Rudd (So adorable!)


New Jersey, USA
*~Rest In Peace~*
Brandon Lee - Born 2/1/65 in Oakland, California
Died 3/31/93 in Wilmington, North Carolina (Supposedly accidental)
The Death Of Brandon Lee: Accident or Conspiracy?
Kurt Cobain - born 2/20/67 in Hoquaim, Washington
Died 4/5/94 in Seattle Washington (NOT Suicide.. MURDER!!!)
The Kurt Cobain Murder Investigation
Michael Hutchence - born 1/22/60 in Sydney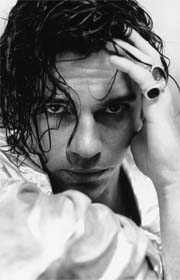 Died 11/22/97 in Sydney (Suicide)
River Phoenix - Born 8/23/70 in Madras, Oregon
Died 10/31/93 in Hollywood, California (Drug Overdose)